In the business of knocking socks off, one is rarely afforded any downtime. Especially with Gamescom coming up faster than the swedish sun during summertime.
Simon and I just arrived back in Stockholm from a trip down to Frankfurt where we visited Crytek in their offices. We had an intense two days there. The team at Crytek were amazing and left us with a wealth of information and hints on how to get the last bit of sock-knocking power out of their technology.
Unfortunately we were so busy absorbing information  we neglected to take pictures of their building or office entrance.. instead, here's how I always imagined the Crytek offices, after playing FarCry and Crysis: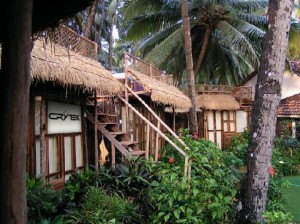 Almost… almost.
Posted by: Konstantin on August 6, 2010 at 18:20